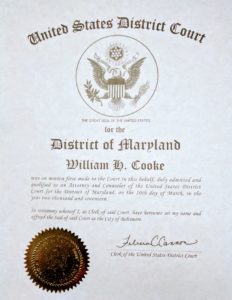 The vast majority of civil and criminal cases in Maryland are handled in our State courts.
I have been licensed to practice in Maryland since 2002, but up until recently, I had not applied to practice before the Federal Courts. As a prosecutor in Baltimore City and then as a public defender in Anne Arundel County, there really was no need to do so. I was always in State court.
Since I am in private practice, it made sense to apply. After I got a sponsor, filled out the form, paid the fee, and passed the background check, I was admitted to practice before the Federal Court in Maryland. It was pretty easy.
Chances are if you are looking for a lawyer in Maryland, you are going to one of our State courts. But if you have a Federal case, give me a call.